I apologize for all the wedding talk. I am starting to bore myself, it's not just you. So let's chat for a minute about the best part of the whole wedding: the honeymoon.
Jeremy has never been out of the country (sorry, Canada and the Bahamas just do not count), and we decided we wanted to take a trip on which we could really make some memories, and have a little adventure. So we will be spending our honeymoon, all 10 glorious days of it, in the Central American country of Belize. There it is: just south of Mexico and east of Guatemala.
Belize is about the size of Massachussetts, and is an English-speaking democracy. It is becoming a very popular ecotourism destination (and sadly, now that Leonardo deCaprio has bought himself one of it's cayes (aka island, pronounced "keys"), it is sure to become overcrowded with pretentious assholes. But not yet. Not before we get a chance to spend some time hiking in its jungles and snorkeling in its reefs.
We will spend the first half of our trip deep in the jungle, at a wonderful private retreat called
Ek'Tun
.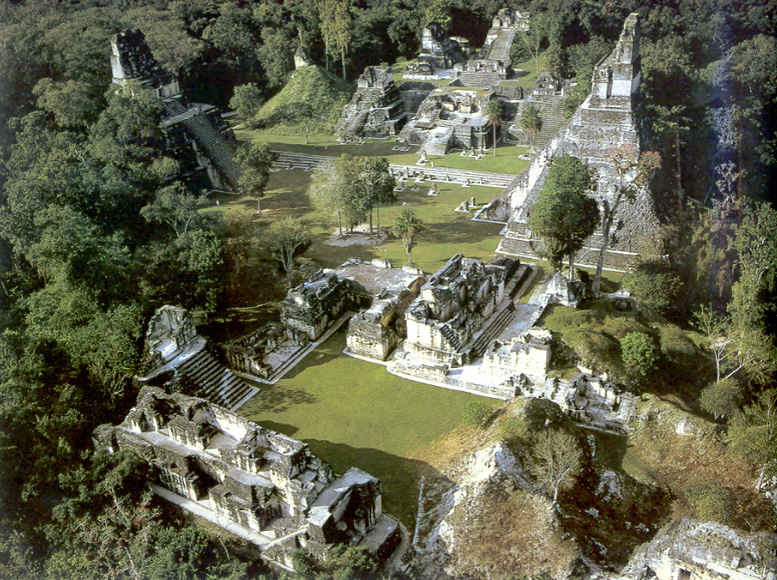 There we will do some hiking, caving, swimming, and lots of eating of gourmet foods. We will also get to play with howler monkeys, an aspect of the trip that I, a bonafide monkey lover, am particularly looking forward to. We also plan to do a day trip to the ancient Mayan city of Tikal, in Guatemala (pictured).
Then, we will drive to Dangriga, on the southern coast, where we will head by boat 14 miles offshore to a 15-acre island called
South Water Caye
. The island sits right on top of Belize's barrier reef--the longest continuous reef in the Western hemisphere.
It was also just listed by Travelocity as among the top ten less-traveled beaches in the world. Again, I'm glad we're going now before too many other people catch on. There, we plan to do not much else but snorkel, lie in the hammock, and participate in other, ahem, honeymoon activities which I surely do not need to describe here. J has his SCUBA certification, but I have never dived. I'd like to try it--it seems silly to be in such a world-renowned diving location and not shell out the couple hundred bucks for an intro dive lesson.
So I guess what I'm saying is that perhaps you can look forward to some great jungle adventure stories (hopefully, none of which will include being robbed at gunpoint by a gang of shady Guatemalans...it's not impossible), and that just might make reading about place cards and seating charts and guests lists bearable for just another week or so...